Learn to Row
---
Enjoy Rowing
Click on the following link and enjoy watching proficient rowers on the River Lune. Do you want to enjoy this experience?
We are still booking places for the 2018 Learn to Row.

Testimonials:
Key Information:
The packages that will run in 2018 follow the same formula that we used in 2016 and 2017. Prior to 2016 we used to run 6 week packages, and extend by a couple of weeks if anyone missed a few sessions. This gave the entrant the opportunity to go through a structured programme but didn't give the opportunity to develop into a more rounded rower and fully integrate into the club. Following feedback from past Learn to Row members we have now extended all future programmes to 8 to 12 weeks (depending on number of people recruited). This offers better value for money (still £60!) but also offers people that are new to the sport the opportunity to integrate more fully into the club. We feel that this has worked well with all the programmes that we have subsequently run with many more beginners turning into established members of the club.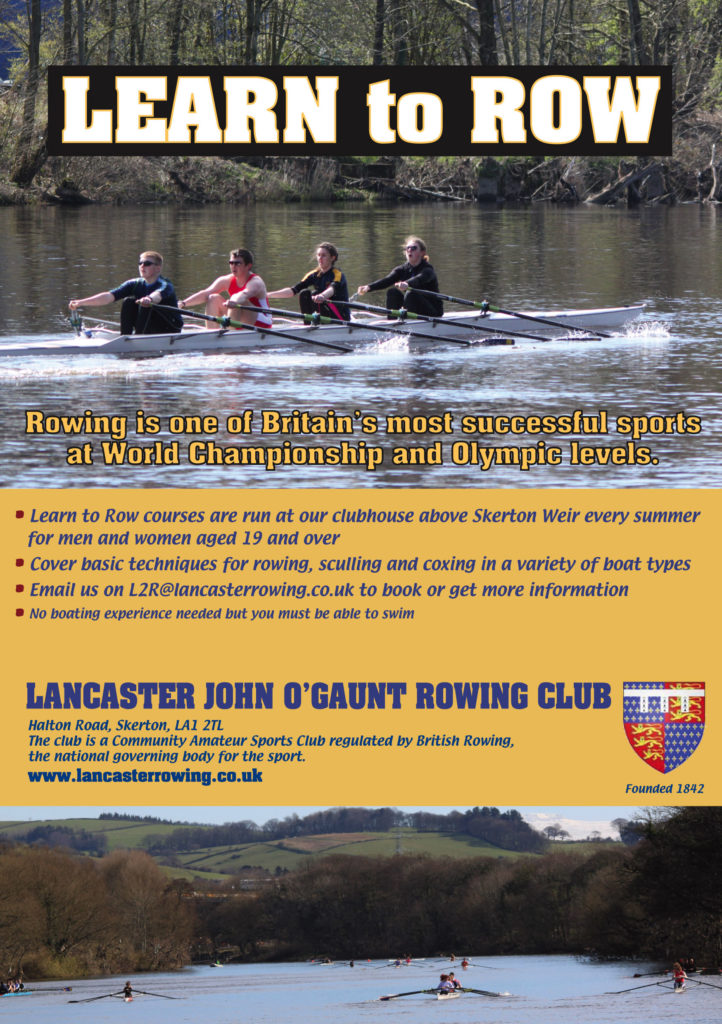 Further Information: 
How Much Does It Cost?
The Learn to Row package costs £60.
We ask that everyone brings the full £60 (cash or cheque) to the first session.
What Happens During The First Session?
At the first session we will ask you to fill in an electronic membership form so that we have all of your details, familiarise you with the club and cover how to get boats in and out of the building. The basic technique of rowing will be covered.
What Will I Have Covered By The End Of The Package?
Carrying and storing boats
Launching and landing boats
Correct manoeuvring whilst on the water
Capsize and recovery
Coxing and rowing in 4 and 8 crew boats
Proper techniques on an indoor rowing machine (used badly and potentially dangerously in nearly all gyms throughout the land!)
Is Rowing Safe?
A basic requirements before you row is that you can swim in light clothing. We don't assess this as part of the package - you sign a disclaimer to say that you can do this.
We ask that you always bring a spare change of clothes to all sessions on the off chance that you fall in!
What Is The Progression Upon Completion?
Upon completion of the package of training, you are invited to join in sessions which are arranged to suit the numbers and availability of members.
If you wish to carry on rowing, we ask you to set up a standing order for £20 a month to be set up on the date of the first post-Learn to Row session. £20 a month (subject to possible increase in 2018) offers good value for the use of equipment that you will be able to access (some boats cost over £10,000!). We have spent in excess of £60,000 over recent years on the building and we continue to plan new improvements.
We have two clubs which operate from the same boathouse. John O' Gaunt Rowing Club is the adult club for over 18s. 
The junior club is the Lancaster Schools' Rowing Association – all young people who are of  school age are members of this club.
Anyone that has read this and is school age (11-18) can turn up to any junior session on a Sunday morning at 9:30am and we will give you two free sessions to see if you would like to take up rowing.
Thanks,
Lancaster John O' Gaunt Rowing Club